Nigel Mack
Guilt & Co
MONDAY, JULY 22
Doors 9pm/Show 9:30pm
Pay-What-You-Can
Chicago blues 'triple threat' Nigel Mack delivers a high-energy show that fuses blues classics with the punch of contemporary original blues. Seamlessly switching between instruments, Nigel Mack is equally proficient at them all. These are talents honed by years of relentless touring in support of his critically acclaimed CDs, Road Rage, High Price To Play and the brand new award-winning CD, Devil's Secrets. Based in Chicago, IL, 'Nigel Mack & the Blues Attack' have toured all over North America, Europe and headlined top blues venues throughout. They are a favorite act at festivals everywhere. Those who have seen this dynamic band are sure to say that 'Nigel Mack & the Blues Attack' will keep you coming back for more!
There's a sweet new food menu inspired by the summer at Tuc Craft Kitchen.
Fresh for the summer and inspired by long days, warm nights, and the colourful abundance of seasonal ingredients, Tuc Craft Kitchen has just released new dinner and brunch menus.
Seafood Étouffée with BC mussels & Manila clams, prawns, squid, creole sauce and dirty rice
Available seven days a week from 5 p.m., Tuc's new dinner menu includes highlights such as baked ricotta (housemade ricotta, warm olives, sheep's milk parmesan); sunset salad (baby shrimp, strawberries, tender greens, lemon vinaigrette, carrot lime purée); lentil hash mole verde (black lentils, sweet peas, roasted mushrooms, corn, pea greens); ribs 'n fries (orange & jalapeño glazed side ribs, curly yam fries, red slaw); and seafood étouffée (BC mussels & manila clams, prawns, squid, creole tomato sauce, dirty rice).
Chorizo Scramble — two eggs scrambled, chorizo sausage, jalapeño roma, ciabatta, greens with lemon vinaigrette.
Tuc has also introduced new dishes to its brunch menu available Fridays from 11 a.m. to 2:30 p.m, Saturdays from 10 a.m. to 2:30 p.m. and Sundays from 10 a.m. to 3 p.m. The new additions include a chorizo scramble (two scrambled eggs, chorizo sausage, jalapeño roma, ciabatta, greens with lemon vinaigrette), lentil hash (two poached eggs, double smoked bacon, black lentils, mole verde, nugget potatoes) and the loco moco (dirty rice, three-meat patty, swiss cheese, onion gravy, two sunny eggs).
ROSÉ-ALL-DAY MONDAYS | On Mondays, Tuc will get the week off to a rosy start by hosting Rosé-All-Day Mondays, featuring a variety of pink wines beginning at $7.50 a glass and $25 a bottle.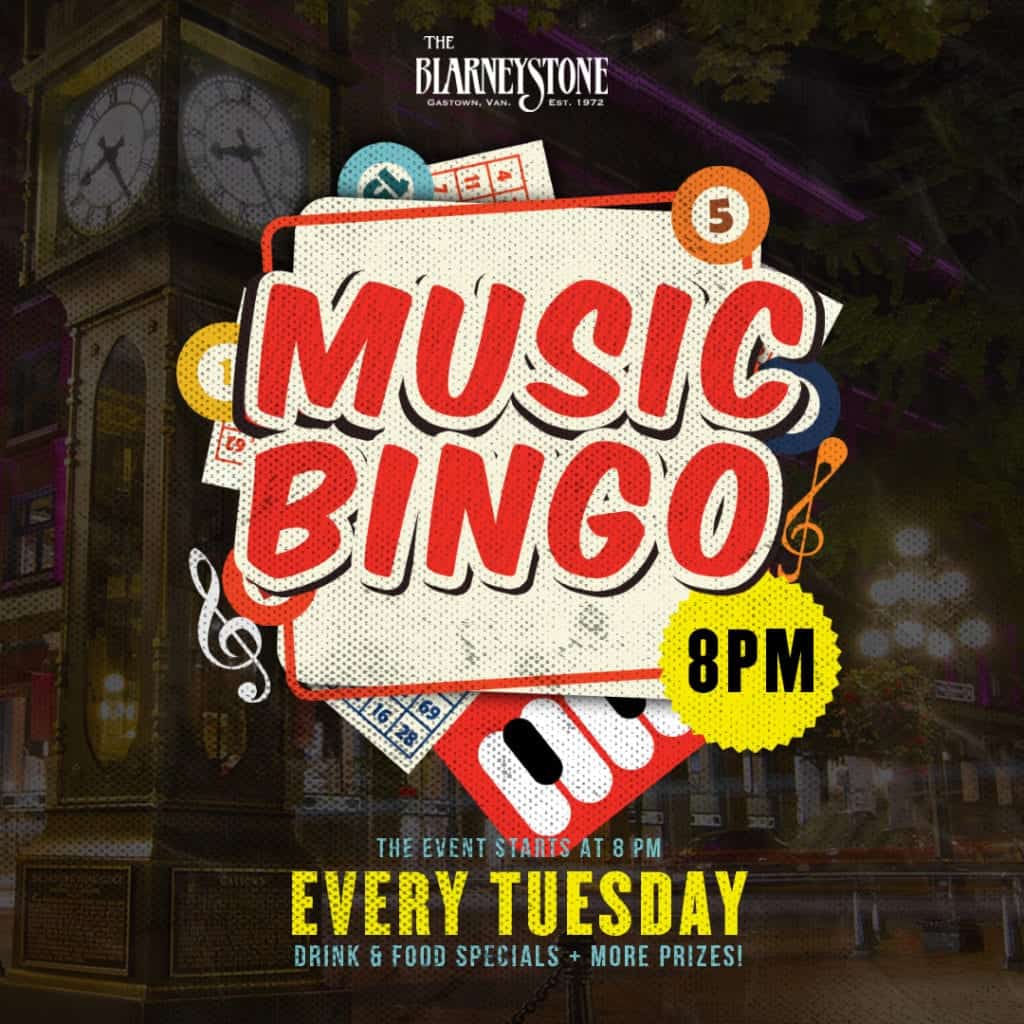 Music Bingo
The Blarney Stone
TUESDAY,JULY 23
8 – 10:00 PM
It's regular bingo but with MUSIC! So fun, you gotta come! We're giving away a Herschel bag EVERY NIGHT! Plus amazing food & drink specials.
Book a table now to reserve your spot
Cambie Pong
The Cambie
WEDNESDAY, JULY 24
8 PM
DJ Byron playing from 8pm
Cambie Pong from 9pm
Everyone loves Beer Pong, right? Hell yeah! Well, in that case, you're going to love Cambie Pong, It's basically the same thing, but you don't have to drink beer if you don't want to. It's great to have options. You can simply play with water, cola or lemonade, whatever you like! We're all about having fun, but drinking responsibly is just as important.
Get down on Wednesday and get a team together, if you don't have a team there are always people needing more people so don't worry about coming alone or without a full team of four! If you have any questions email through contact page.
GASTOWN CRAFT – LIVE MUSIC
The Portside Pub
THURSDAY, JULY 25
11 – 2:00 PM
Join us on The Portside every Thursday for Gastown Craft!
Live Music by the rad Vancouver band Wyper & Parker. Danceable, wailing bluesy guitars, and a singer who sounds like Rod Stewart and Joe Cocker's secret lovechild.
ALL local craft beer taps only $5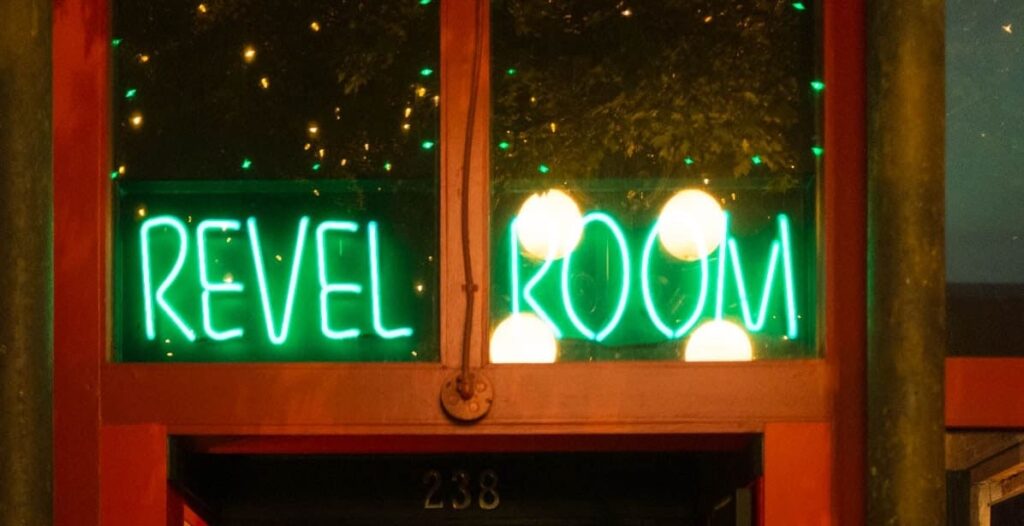 Jazz, Blues & Soul
Revel Room
FRIDAY, JULY 26
7:30 PM
Mellow out with Jazz Blues & Soul at the Revel Room featuring rotating acts.
Common Ground x TOT Events
MIA Night Club
FRIDAY, JULY 26
10PM
COMMON GROUND x Touch of Techno
house/techno+friends
Friday's at Are you MIA
Tickets bit.ly/CGxTOT
Chaz Moloney [Touch of Techno& Clique]
Jake Nolan [Subtech& Techno & Cans]
Dj Mita
Mal Dot Com
Reserve table service packages at info@areyoumia.com
Well Travelled Walking Tour: Gastown
Herschel Supply Co.
SATURDAY, JULY 27
2 – 3:30 PM
Welcome to Gastown, we're excited to host a walking tour made for explorers, design-lovers, visitors and locals alike. Join us at the Herschel Supply Gastown store every Saturday this summer to discover the art, architecture and stories that define the historic Gastown neighbourhood.
– Modern and historic architecture highlights
– Design and art from galleries to alleyways
– Incredible photo ops
– Prizing courtesy of Herschel Supply Company
Welcome to Gastown, Enjoy Your Stay.
#WellTravelled
Meet at Herschel Shop on Water Street by 2pm sharp.