We have 18 places where you can find over 75 varieties of micro brewed and specially made craft beer. Where else in Vancouver can you find such a huge concentration of expertly made ale, from so many different places, poured fresh from the tap and now resting snug between your hands? Gastown is the place- we have it all!

Top of the list in terms of sheer selection and variety is The Lamplighter – they have around 40 beers on tap. There are many different types of beer including premium ales & bitters, saison, lagers & pilsners, stouts & porters, witbier & hefeweizen, ciders, IPA's and rotating taps. The selection is staggering and The Lamplighter will command repeat visits.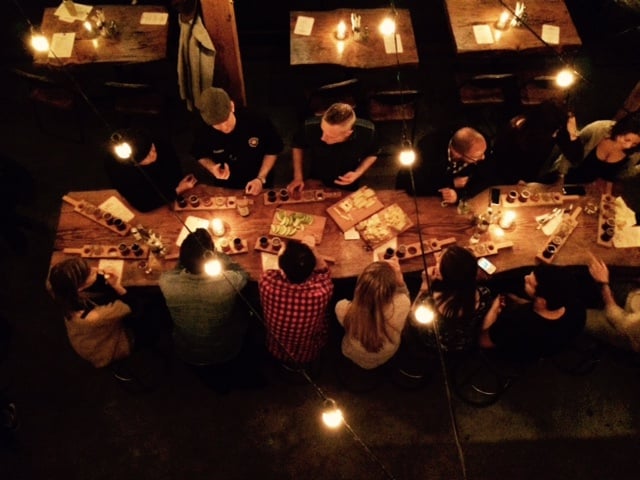 The Portside Pub are brew worthy curators themselves with  24 craft beers on tap. They pour beer ranging from their own exclusive – Portside Pilsner – brewed in Vancouver to Kentucky Common from BRB Brewing Richmond, Shipwreck IPA from Lighthouse Brewing Victoria and  Four Winds Saison by the Four Winds Brewing Co.Delta. A huge selection of well made beer in a bar that feels like the galley of a pirate ship.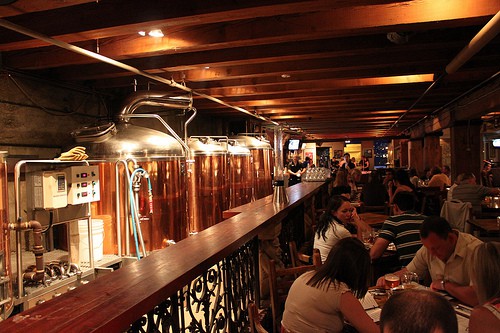 Steamworks Brew Pub has established itself as one of the most well known and unique microbrewers in BC.  In 1995, when we they first occupied their historic Gastown brewpub location, they discovered that the building had a rare steam heat system. Their brewmaster had only read of steam powered brewing, but had never seen a functional steam brewery. These are very rare indeed. They ventured forth, experimented, and created a one-of-a-kind steam generated brewery. The only one in Canada. Steamworks offers 8 of their own crafted beers on tap plus an awesome big patio with incredible views of the North Shore. Recommendations include the deliciously seasonal Frambozen dubbed: "Summer in a glass" which features a ruby-red colour, with a luscious pink head. Or go for the unexpected and try what ever is on the Rotating Steamvalve Tap including  Skinnytire™ hefeweizen, Steamworks Kölsch, or maybe even a Rye-PA.   photo: bsbrewing.com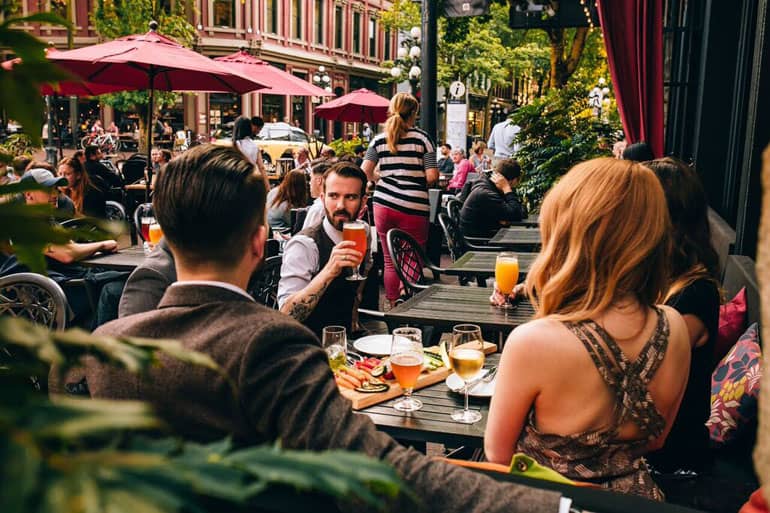 Chill Winston has Gastown's biggest and livliest patio where you can enjoy 5 craft beers plus a rotating tap. This is the place to watch it all go by while sipping great locally brewed beer. Choices include Bomber Pilsner – Vancouver, Postmark West Coast Pale Ale – Vancouver, (Think West Coast in a glass), Yellow Dog Play Dead IPA – Port Moody and 33 Acres of Darkness – Vancouver.    photo: scoutmagazine.ca
The Metropole Communtiy Pub on Abbott Street  has 6 craft beers on tap from Farmhand Ale by The Driftwood Brewery in Victoria to down south in Arizona with Kilt Lifter Ale by The Four Peaks Brewing Company.
La Vita E Bella at Nicli Antica Pizzeria. Choose from 3 craft beers, carefully selected to pair well with their delicious wood fired pizzas. Try the STRANGE FELLOWS 'JONGLEUR' BELGIAN WIT, the DRIFTWOOD 'FAT TUG' IPA or a pint of the LIGHTHOUSE 'RACE ROCKS' AMBER ALE.
Six Acres is a Gastown hotspot for beer lovers  with no less than 15 craft beers on tap. High ceilings, rustic brick walls,  friendly staff and a nice patio right on Maple Tree Square with Gassy Jack in permanant attendance. Their extensive collection of  crafted brews include places you wouldn't think of right away: Central City (Surrey), Hoyne (Victoria), Gigantic (Oregon), Bomber (East Van), Phillips (Victoria), Russell (Surrey) Pilsner, Townsite (Powell River), Upright (Portland), Persephone (Gibsons), Merridale (Delta), Tofino (Delta)
The Bourbon has a mechanical bull, indoor Bocce Ball and 4 craft beers on tap. As they proudly claim from their subtle website: The Bourbon in Gastown – Now celebrating the golden age of craft beer,cocktails, and competition.
The Flying Pig pours 5 craft beers – T.F.P Lager,  Stanley Park Pilsner,  Stanley Park Pale Ale,  Stanley Park Amber Ale, Russell Blood Alley bitter plus a Seasonal Rotating tap.  Regarded as a "Nouveau Canadian Bistro", The Flying Pig Gastown offers a simple, seasonally inspired menu with fresh, local ingredients at great value.

The Irish Heather is the local pub for many and could become your local.  A true Celtic gastropub serving classic Irish fare with an extensive whisky list and local and imported pints. Along the bar you'll find 8 craft beers ranging from a WHEAT ALE  – BRIDGE BREWING BOURBON BLOOD ORANGE, APPLE CIDER – ORCHARD HILL CIDER to a HEFFEWEIZEN by RUSSELL – 'WHITE RABBIT HOPPY HEF'.  photo: myvancity.ca

Tuc Craft Kitchen serves up incredibly fresh food, sourced locally and perfectly inspired with seasonal ingredients. A relaxed, casual setting where all the dishes on the menu are authentically prepared by the kitchen team. Their tap selections are just as real and local as the food, pouring craft beer from as close as the Powell Street Craft Brewery with their 'Ode to Citra' Pale Ale as well as an Amber Ale – Dageraad Brewery, a Dry Stout – Persephone and a hard to find – Harvest Melomel Mead – Tugwell Creek (logan, marion & goose berry honey mead) – Sooke, BC.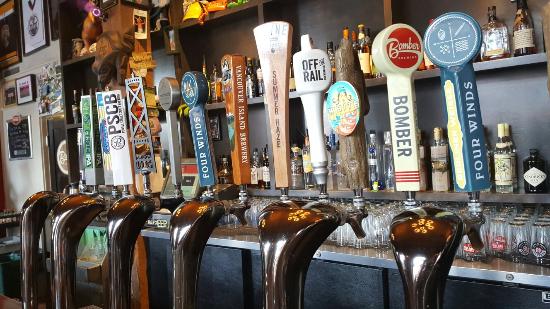 You'll discover no less than 15 craft beers at The Black Frog. They pour a number of varieties from the Four Winds Brewery in Delta including a pilsner and a saison as well as  BLACK BETTY BLACKBERRY SÄISON – Vancouver Island Brewery, Victoria, BC,  1516 LAGER – Okanagan Spring, Vernon, BC,  GYPSY TEARS RUBY ALE – Parallel 49, Vancouver, BC,  WUNDERBAR KÖLSCH – Bridge Brewing North Vancouver, BC, and a cold HOUSE CRAFT CIDER – Merridale, Cowichan Valley, BC  photo: tripadvisor.ca

Guilt & Co is a Gastown hotspot. They have live music and cabaret nights each week, a casual fine dining menu that you wouldn't expect  and an above average craft beer list. A popular pour is the La Chouffe – Belgian Strong Pale Ale.

Peckinpah is a Carolina Styled BBQ restaurant in Maple Tree Square. They pull 8 craft beers along with serving up delicious ribs, brisket, pulled pork, deep fried pickle slices and old fashioned cornbread. Water it all down with local draft including Fat Tug IPA(Driftwood), Red Truck Lager, Blood Alley Bitter (Russell), Parallel 49 (feature beer),Talisman Pale Ale(Strange Fellows), Short Wave Pale Ale(Phillips) and an Odyssey Porter (Phillips).
Pourhouse is a finely crafted  place  –  subtle, rich, comforting and  known for high standards in food and drink. They pour 5 craft beers for a range of tastes and styles – several selections representing the true ale craftsmanship of BC and the pacific northwest. You'll even find taps with Portland Oregon and Quebec beers flowing through them. The list includes: Potts Pilsner – Moon Under Water Brewing, Victoria, BC/ 33 Acres of Sunshine – Blanche Ale – 33 Acres, Vancouver, BC/ Talisman Pale Ale – Strange Fellows Brewing, Vancouver, BC/ Four Winds Seasonal IPA -Four Winds Brewing, Delta, BC/ Persephone Brewing -Gibsons, BC    photo: vivalifestyleandtravel.com

Gastown's latest watering hole is The Bar & Forth Bar. Inspired by the love of of rec rooms and the games that are played there, this fun filled emporium is complete with video games, ping pong tables, couches and a nice assortment of craft beer. Choose from a frothy list that includes Parallel 49 Filthy Dirty IPA, Fuggles and Warlock Strawberry Wit, Strathcona Vienna Lager, Alexander Keith's India Pale Ale, Goose Island Honker's Ale along with many other varieties.
For vegetarians/vegans and those who love vegan craft beer, head over to Meet in Gastown. This bright, lively veggie only restaurant is often packed and there's a great bar at the back with a rotating set of taps pouring local craft brew.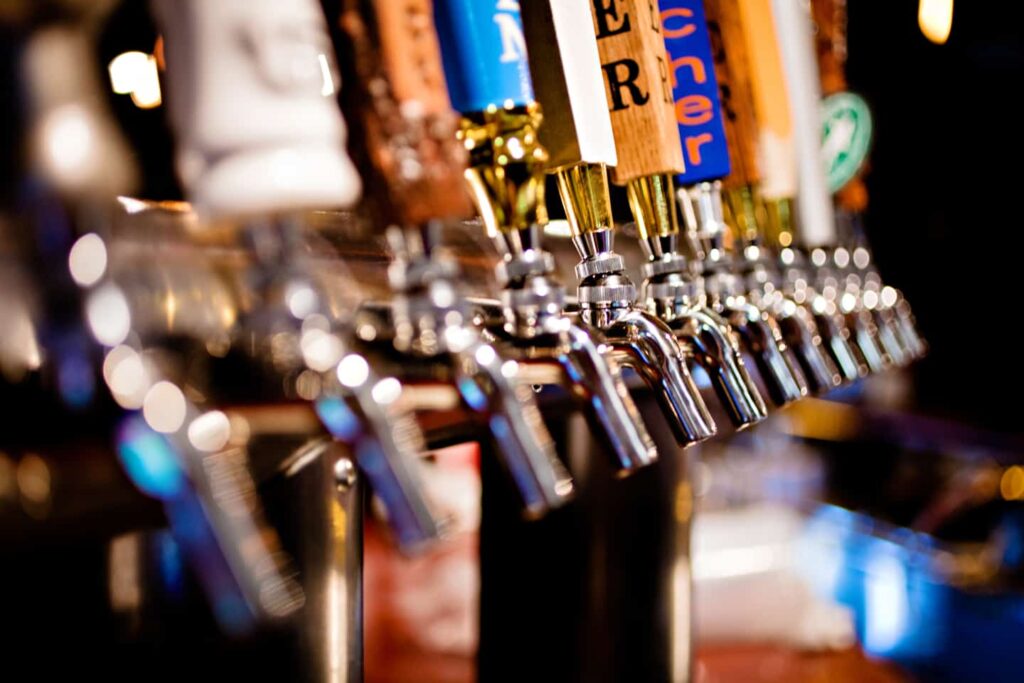 The Cambie Pub caters to large groups with a big open bar space and a lively patio. There are a dozen taps serving craft beer from Parallel 49, Whistler, Stanley Park and ShockTop.
Cheers to the craftiest of beers!