Bambo
301 W. Cordova St.
Vancouver, BC, Canada
V6B 1E5
Tel: 604-681-4323
www.bambocafe.com
This café on the corner of Cordova and Cambie, offers Azzi's homemade soups, organic fair trade and an array of toasted focaccia sandwiches. Bambo is a master of sandwiches serving premium sandwiches with chicken, turkey, roast beef, and salmon, to name a few. If you like sandwiches with flavour, try their lemon pepper chicken sandwich with pesto sauce (pictured above). View Bambo's menu.
Brioche Urban Baking & Catering
401 W. Cordova St.
Tel: 604-682-4037
www.brioche.ca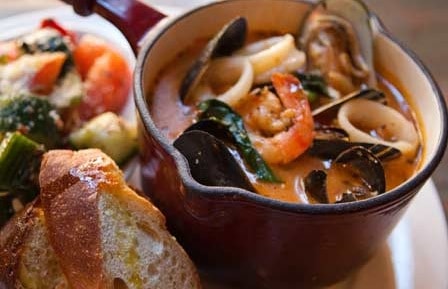 Image courtesy of foodology.ca
Brioche is a cozy café serving hearty dishes such as authentic homemade Sicilian-inspired pasta and specialty paninis. Their specialty paninis always hit the spot and are served on your choice of house-baked focaccia, sourdough or baguette. Any steak lover must try Brioche's New York steam sandwich, grilled with savoury house wild mushroom sauce. View Brioche's full menu.
Lily Mae's
12 Powel Street
Tel: 604-558-2599
www.lilymaes.ca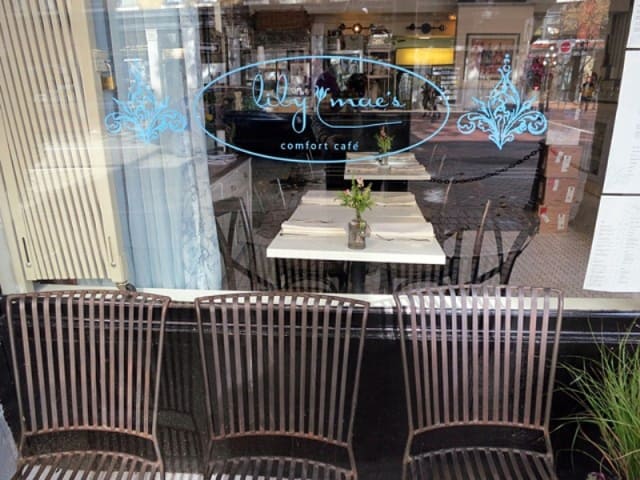 The European-inspired bistro offers incredibly rustic comfort food that is reminiscent of a home-cooked meal from a kitchen in the prairies. One of their best is the pork schnitzel sandwich made with Edam cheese, Dijon mustard, and sliced pickles on ciabatta. Lily Mae's has recently given their menu a new facelift for the Fall Season. Check out Lily Mae's new Fall menu.
Peckinpah BBQ
2 Water Street
Tel: 604-681-5411
www.peckinpahBBQ.com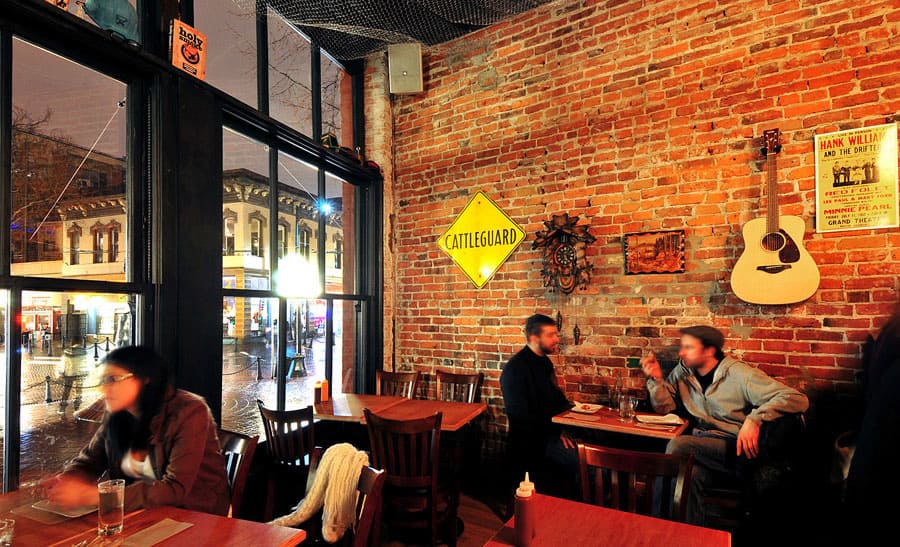 If you're looking for Southern comfort, Peckinpah is your place. Known for their finger-licking Carolina-style BBQ dishes, Peckinpah also serves meat-loving sandwiches, including a chopped beef po-boy made with stewed brisket on baguette with lettuce, tomato, mayo, and pickle. All sandwiches are served your choice of mouth-watering sides such as cornbread, cream corn, and hush puppies. Check out Peckinpah's full menu.
Rainier Provisions
2 West Cordova Street
Tel: 604-558-2473
www.rainierprovisions.com
This friendly delicatessen café serves modern comfort food made with locally sourced ingredients. If you're not a meat eater, Rainier serves a filling vegetarian breakfast sandwich for brunch that is made with roasted mushroom, spinach, watercress, and an organic free-range egg with house made hollandaise on a parker roll served with hash browns. Check out Rainier Provision's current menu.
Secret Location Tasting Room
1 Water Street
Tel: 604-685-0090
www.secretlocation.ca
If you're looking to grab a sandwich in an luxurious setting, keep Secret Location on your radar. The Tasting Room serves European-inspired cuisine, Italian artisanal coffee, and delicious burgers and sandwiches for lunch, including a pulled pork sandwich made with piggy puff, caramelized onion, and arugula. Check out Secret Location Tasting Room's menu.
The Greedy Pig
307 West Cordova Street
Tel: 604-669-4991
www.thegreedypig.ca
This restaurant will make you want to pig out, in the best way possible. This cozy and casual joint serves all types of prairies-inspired comfort food made from local ingredients. For a sandwich with a kick, check out The Greedy Pig's chicken cobb sandwich, made with roasted chicken breast, smoked bacon, avocado, and chipotle mayo. View The Greedy Pig's full menu.
Tuc Craft Kitchen
60 West Cordova Street
Tel: 604-559-8999
www.tucrestaurant.com
You can't beat comfort food and a rustic atmosphere. Tuc Craft Kitchen brings just that. For lunch, try out their classic beef brisket and pork-crackling sandwich made with double R ranch brisket, sourdough break Dijon mustard, assorted pickles, salsa verde, and served with smashed potato fries. All ingredients excluding lamp are locally sourced. View Tuc Craft Kitchen's full menu.
The Flying Pig
102 Water St.
Tel: 604-559-7968
www.theflyingpigvan.com
For those days when you need to grab a quick bite on the go, The Flying Pig's new Side Door is your best bet. The Side Door offers on the go sandwiches, soups, and salads from 11:30 a.m. to 2:30 p.m. If you're craving a savoury sandwich, you must try the roast beef sandwich, made with thick cut tomatoes, red onions, cheese, mayo, and arugula.
Water Street Cafe
300 Water Street
Tel: 604-689-2832
www.waterstreetcafevancouver.ca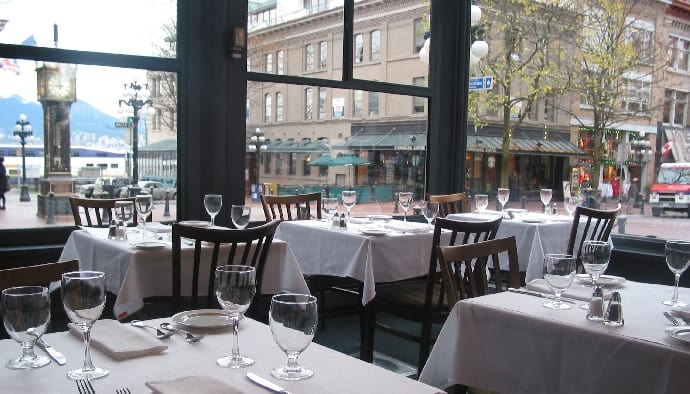 Looking to munch down your sandwich with a great view of the steam clock? Water Street Café provides an elegant dining experience combined with a beautiful view of the historic clock. Try out their grilled Mediterranean chicken sandwich with fresh chicken breast, roasted red peppers, basil salsa, herb cream cheese open faced on grilled focaccia bread, side salad and frites. View Water Street Cafe's full menu.
Need more food options? Check out our previous post: 10 Restaurants for Comfort Food.