Bambo
301 W. Cordova St.
Tel: 604-681-4323
www.bambocafe.com
Bambo is a popular lunch spot offering organic, fair-trade coffee, freshly squeezed juice, and toasted focaccia sandwiches made fresh for under $8. If you're in the mood for a flavourful sandwich, we recommend Bambo's lemon pepper chicken breast sandwich with pesto sauce. Bambo also offers plenty of salads and light pastas to grab on-the-go.
Chill Winston
3 Alexander Street
Tel: 604-288-9575
www.chillwinston.ca
If you like your lunch made fresh with local ingredients, grab a bite from Chill Winston's special "12 for 12" lunch menu featuring 12 items for $12. Chill Winston's menu offers satisfying bites, made with BC-grown meat and local ingredients, and vegan and vegetarian options. Grab your lunch to go, or sit by their patio for a stellar view in the heart of Gastown. Last call is at 2 p.m.
La Casita
101 W. Cordova Street
Tel: 604-646-2444
www.lacasita.ca
The family-owned restaurant, La Casita offers authentic Mexican cuisine at a good price. Add a little fiesta to your lunch break with traditional comidas, nachos and tortilla soup; or try their Tostadas, made with ceviche, chicken, beef, or bean on a crispy corn tortilla, topped with beans, cheese, salad, and sour cream. Everyday La Casita offers rotating lunch specials for $8 to $10.
Lamplighter Pub
92 Water Street
Tel: 604 687 4424
www.donnellygroup.ca/lamplighter
Fill your appetite with one of Lamplighters affordable sandwiches. Lamplighter is currently serving a $10 lunch special on weekdays from 11:30 a.m. to 3 p.m. The special includes your sandwich of choice (French dip, smoked turkey deli, BLT pastrami, or veggie) and complimentary house cut fries or organic greens.
MoMo Sushi
6 – 375 Water Street
Tel: 604-683-7632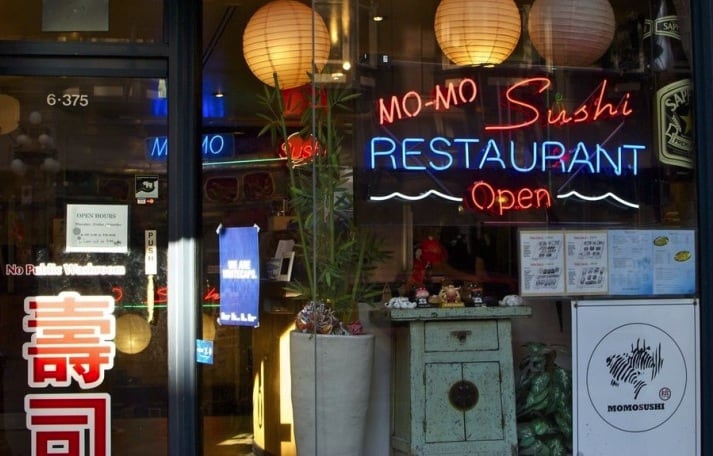 Photo credit: seansadventuresinflavortown.com
Momo Sushi is one of our favourite lunch places for getting a convenient and affordable sushi fix, offering well-priced sushi and lunch box combos. To get more "bang for your buck", try their Chicken Terrayaki Don, made fresh with an ample amount of crispy chicken. This hot spot can be quite busy during lunch hours. If you're tight for time, order your take-out over the phone at 604-683-7632.
Nu Greek
332 Water Street
Tel: 604-558-2022
In the mood for Greek food? Nu Greek offers delicious "slow food" on the run for under $8, including pita wraps and lamb, salmon, chicken, octopus, and vegetable souvlaki, made from scratch with hand crafted breads. Grab one of their delicious Greek, chickpea and mint, or calamata olive salads if you're craving a healthy snack during lunch.
Peckinpah BBQ
2 Water Street
Tel: 604-681-5411
www.peckinpahBBQ.com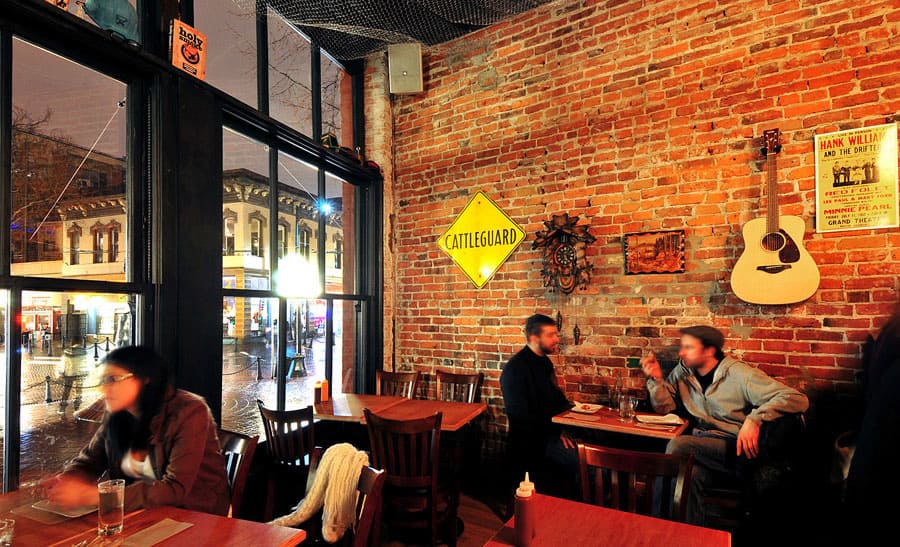 If Southern comfort is calling your name, march down to Peckinpah for Carolina-style barbecue and finger-licking grub. Peckinpah serves quality BC-grown smoked meats, and offers a comforting lunch menu that includes beef brisket, corn bread, short ribs, and house made corn dogs, and pumpkin bread pudding. Try their daily lunch special, featuring the main of the day with a side dish for $10 (tax included). You can order online or at Peckinpah's separate entrance for take-out orders.
Sea Monstr Sushi
55 Powell Street
Tel: 604-681-2144
www.seamonstrsushi.com
If you're on a budget and craving a fresh bite, consider ordering some traditional sushi to go. Sea Monstr Sushi is one of the best sushi places in town, offering authentic, well-prepared sushi. All ingredients are sourced locally and ethically when available, including sashimi and nigiri, a selection of rolls, and salmon and chicken teriyaki don. Try one of our favourites, Gyu Don, made with beef, onions, rice and miso soup.
The Flying Pig's Side Door
102 Water St.
Tel: 604-559-7968
www.theflyingpigvan.com
The Flying Pig's Side Door is one of the most convenient spots to grab take-out, serving "on-the-go" soups, salads, and sandwiches with daily features (such as smoked chicken and beef dip). The Side Door offers a soup and sandwich lunch combo for $10. Try their carved roast beef sandwich with their delicious three pea soup. The Side Door is open from Monday to Friday at 11:30 a.m. to 2:30 p.m.
Vera's Burger Place
213 Carrall Street
Tel: 604-568-5850
If you're craving a burger (or two), stop by Vera's Burger Shack. Vera's offers a variety of burger styles from the basic burger to specialty burgers with unique toppings and combinations. Try one of their daily specials (available from Monday to Friday) which includes the burger of the day with fries and bottomless fountain pop.
For more affordable lunch options, check out Best Affordable Lunches To Go (Part 2).