"With the push and support of the right people, at the right time, this went from an idea to an actual project fairly fast," recall Alice Wu and Johan Friedrich, co-owners of Mosquito.
It's Wu who has the culinary background and the one credited with the original idea to open a dessert and champagne restaurant in Vancouver's oldest neighbourhood.
"One of the first people I talked to was Dominic Fortin, the executive pastry chef of Bearfoot Bistro. I've worked with him before and have a great respect for his talent," explains Wu. "I asked him what he thought about the concept and he said it was really interesting. Then I asked him if he would help me and he said yes."
For Wu, the desire to focus on the sweet side of the restaurant business came from a career spent in kitchens where the pastry department is often an afterthought. She saw the potential to break away and do something interesting, even if it meant she'd have to step out from behind the scenes to make it happen.
"It was really difficult to describe what kind of restaurant it was going to be," notes Wu, who is incredibly thankful to have Fortin and pastry chef, Julianne Hansen, making her vision a reality. "I love being in the kitchen, but there's way too many things for me to take care of now."
Making Mosquito a Reality
Fortin is the genius behind the menu, which includes everything from inspired macarons (think olive oil & rosemary or oolong tea & milk chocolate) to sumptuous desserts featuring espresso meringue, bourbon caramel, vanilla salt, coconut matcha mousse and cocoa streusel.
Mosquito opened on Valentine's Day, welcoming guests with intimate interiors that are perfect for date night. Navy accents, shimmering gold and dim lighting will have you wondering if Leo might step through the doors in full Gatsby attire.
"Our motivation is to bring a new experience to a night out, one that's an alternative to the conventional," notes Friedrich. "We talked to Ste. Marie Art + Design about places that had great atmosphere and worked together to create something unique."
What's in a Name?
It's been on the tip of everyone's tongues, starting from the moment Friedrich and Wu put it up in the window during construction. Mosquito.
"The short version is that we really liked the idea of challenging people's perceptions of beauty," Friedrich explains. "We needed a name that spoke to our uniqueness – plus everyone can pronounce it and they're likely to remember it."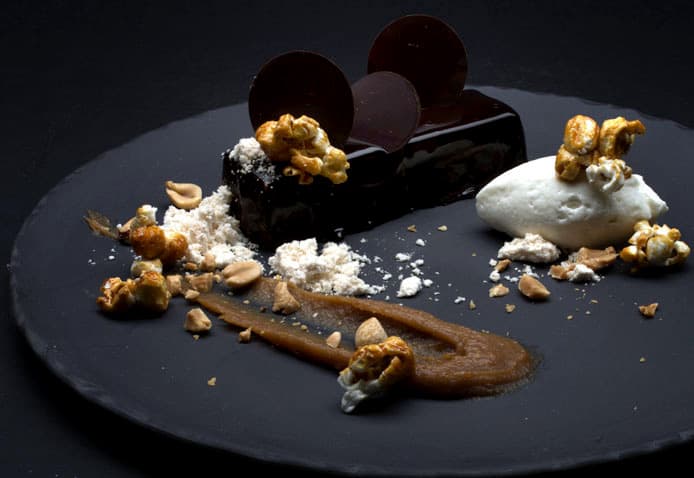 Guests can expect delicious bites, whether they stop by for dessert tapas from 5-8pm each evening, or one of the restaurants signature dishes, including the peanut butter & milk chocolate bar with caramel popcorn, caramelized banana jam and popcorn gelato or the olive oil & lemon bavarois with madeleine sponge, elderflower syrup and dehydrated grapefruit.
"We have something for every taste, whether you have a sweet tooth or not," explains Friedrich. "And we can suggest a pairing from our wine list."
Bringing Boutique Bubbles to the Table
Mosquito has been selective in their wine menu, showcasing small growers from some of the region's oldest vineyards to the table. Gosset is either the oldest or the second oldest house (depending on who you ask) in all of Champagne, dating back to 1584. The Vilmart Grand Cellier Brut is made from free-run juice only and is rich and luscious, with aromas of orange blossom, mint, herbs and spice. Or consider the Paillard Rosé Grand Cru, made in the historical heart of the region by the eighth generation, Antoine & Quentin, who are said to rival, match and even outstrip the more famous names we know.
"When people think about champagne, they are more comfortable ordering something they have tried before so we started bringing in some big names such as Veuve Cliquot," notes Wu.
"But we're also appealing to those who have a taste for the unknown and an appreciation for boutique offerings," Friedrich explains.
Mosquito is currently open from 5pm to midnight, Wednesday through Sunday, but hours will likely increase as the weather warms up. With 42 seats, the space is cozy, but can also accommodate larger groups. And it's been popular with those who work in the restaurant industry, especially those in Gastown.
"I love to see them and share what we've done here," states Wu. For Friedrich, the sentiment is the same. "They've been so supportive. We're not competing directly with anyone, so it's easier to make friends."
For more on Mosquito, visit their site here, follow them on Instagram or find them on Facebook.