Margarita Monday at Montauk with Music on Main
Montauk Gastown
Monday, May 27
7pm
Start off the week on a high note by helping Music on Main keep the music playing!
Along with co-chairs Liesa Norman and Kristy Brinkley, join us for a fundraiser at the gorgeous Montauk Sofa in Gastown for drinks, food by Tacofino, and performances by some of our favourite artists.
From one-night only collaborations to unexpected, genre-bending pieces (ever wonder what rapping over classical piano would sound like?), Margarita Monday at Montauk with Music on Main will add some "Mmmmm" to your week – and help support Vancouver's arts community.
7:00 PM | VIP Cocktail Hour with Special Performance
8:00 PM | Doors, cocktails, performances
featuring:
XL The Band
Prevail (Swollen Members)
Rob The Viking (Swollen Members)
Liesa Norman (The Leisure Principle)
David Spidel (Martone, The Living)
Neph (Alpha Omega)
Julia Chien(Emerge on Main)
Veda Hille
$250 / $100 single tickets (VIP / General admission)
VIP tickets include a VIP cocktail hour and food by Tacofino at 7:00 PM, a special performance, and a tax receipt issued for $175. General admission tickets include entry at 8:00 PM and a tax receipt issued for $50. All prices include service charges and fees. Call Music on Main at 604.879.9888 to purchase over the phone. Questions? Email us at info@musiconmain.ca.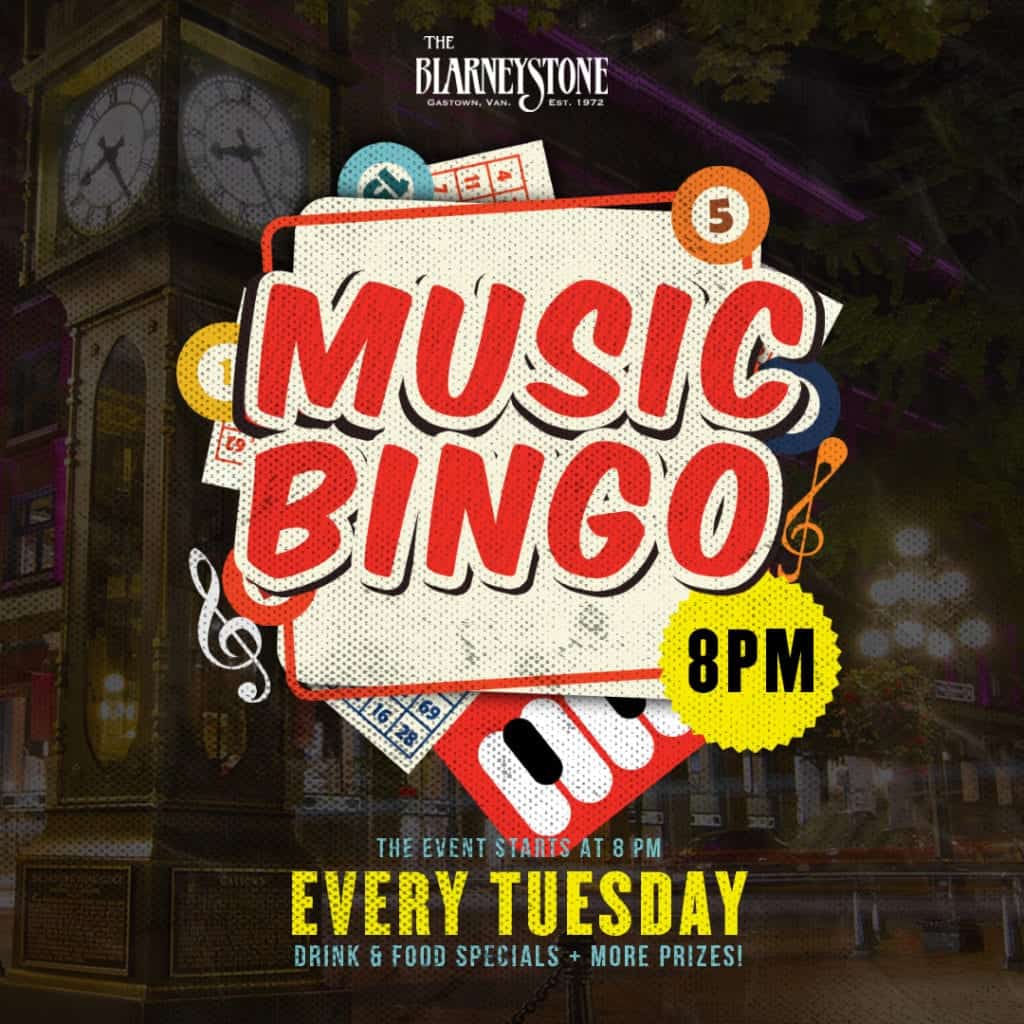 Music Bingo
The Blarney Stone
TUESDAY, MAY 28
8 – 10:00 PM
NEW MUSIC BINGO every Tuesday at The Blarney Stone
Its regular bingo but with MUSIC! So fun, you gotta come! We're giving away a Herschel bag EVERY NIGHT! Plus amazing food & drink specials.
Book a table now to reserve your spot
Hot Jazz Wednesdays feat. Jen Hodge
Guilt & Co
WEDNESDAY, MAY 29
Doors 9pm/Show 9:30pm
Pay-What-You-Can
Bass player, vocalist, and bandleader Jen Hodge is a versatile musician who can be found playing with a wide variety of artists all over the world. Jen's playing is characterized by hard swinging grooves, an expressive and energetic playing style, and an evident, infectious love for making music, which endears her performances to listeners, partiers, and dancers alike. Her steadfast bass playing and consummate professionalism have taken her to stages all over Canada, the USA, China, Spain, France, the UK, Sweden, and the Caribbean. Jen's latest album, All's Fair in Love and Jazz, spent 8 weeks in the top 30 North American College & Community Radio jazz charts, peaked at #2 in the Canadian jazz charts, and broke into the JazzWeek top 100. Jen has been appearing at Guilt & Co regularly for more than 8 years, during which time 4 different Guilty cocktails have been named after Jen Hodge All Stars original songs.
Seafood Sessions: Giant Pacific Octopus with Sous Chef Mygem
Coquille Fine Seafood
Join us on Thursday, May 30th to learn all about the giant Pacific octopus. Our Sous Chef Mygem will be sharing some interesting facts about this awe-inspiring sea creature, as well as offering some tips on how to prepare and serve it.
The giant Pacific octopus is know for it's grandeur, intelligence, and is known as a master of camouflage. It is a demersal cephalopod that is locally sourced, typically inhabiting the shallow coastal waters of British Columbia and Alaska. Octopus is a versatile seafood that takes well to both hot and cold preparations. You can find it grilled on our happy hour menu, and served as a carpaccio on our lunch and dinner menus.
Every Thursday during happy hour we'll be featuring a different Ocean Wise seafood or shellfish and we'll have our local fishermen and women, shellfish farmers or our kitchen team on hand to share some stories and tricks of the trade over a drink and some happy hour snacks.
Oxana Gaida Art Exhibition & Belly Dance Performance with music by DJ Zorastra
Bia Boro
Friday May 31
6pm – 9pm
Join us at BIA BORO Gastown for another edition of Gastown Art Social.
Featuring Belly Dance show by Adalat Omar & Sahel Kheshtkar – Live Mural Painting by Oksana Gaidasheva – DJ Set by Zorastra.
….::Sip Sip Rosé & Shop::…..
Not to be missed! All are welcome to attend.
Well Travelled Walking Tour: Gastown
Herschel Supply Co.
SATURDAY, JUNE 1
2 – 3:30 PM
Welcome to Gastown, we're excited to host a walking tour made for explorers, design-lovers, visitors and locals alike. Join us at the Herschel Supply Gastown store every Saturday this summer to discover the art, architecture and stories that define the historic Gastown neighborhood.
– Modern and historic architecture highlights
– Design and art from galleries to alleyways
– Incredible photo ops
– Prizing courtesy of Herschel Supply Company
Welcome to Gastown, Enjoy Your Stay.
#WellTravelled
Old Country Swing
Revel Room
SUNDAY, JUNE 2
7 – 10:00 PM
Old Country, Ragtime & Swing with Kelly Haigh & the Do Rites.