Gastown has quite the history. This is where Vancouver was born. We all know about old Gassy Jack. And the steam clock is a constant reminder that once upon a time in the 70's, this weird and wonderful little place redefined itself, and once again, rose from obscurity into a bright shining star.
Today is International Fluevog Day – a far reaching event that combines the love of Valentine's Day, the excitement of New Year's Eve and the fellowship of St. Patrick's Day into one ultimate celebration of unique soles for unique souls. Festivities include limited edition giveaways, deals and surprises galore.
Can a shoe store pull off such a synthesis of holidays and make it work? Of course it can – this is a Fluevog happening.
John Fluevog started in Gastown and the companies flagship store sits proudly on Water Street  – arguably the best window shopping opportunity in the city.
First there was Fox & Fluevog – a cooperative effort sprung from two Sheppard's Shoes salesmen who decided to go independent.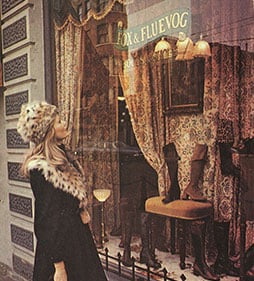 The earliest Fox and Fluevog shoes were made from turn-of-the-century footwear that had been discovered in a Mexican warehouse and purchased on the spot by John. The duo advertised their shoes as "Brand new 50 year old shoes".
The Gastown shoe boutique lasted a decade until Peter Fox bid John adieu and the cobblers went on different paths.
In 1973, the first John Fluevog Shoes shop opened on Granville Street, with the brand then expanding throughout North America to major cities including Seattle, Boston, San Francisco, New York, and Toronto.
The stars aligned for Fluevog in more ways than one as celebs and important people fell in love with these strange little pieces of foot art. Director Robert Altman buys a knee-high boot while filming McCabe and Mrs. Miller, Lady Miss Kier wears a pair of Munsters on the cover of Deee-lite's debut album; World Clique, Madonna rocks a pair of shocking black Munsters platforms in her film, Truth or Dare, Alice Cooper wields the Swordfish boot, Jack White rocks The Jack boot all over the place. In the midst of all the glitz, glamour and expansion, tt takes 35 years for Fluevog to come full circle back home to Gastown.
In 2008, he opens his great glass cathedral on Water Street that includes an open plan design studio on the upper level.
Be you a fan of Fluevog's iconic wedge heel or a curious bystander, today's a perfect opportunity to read a little history on just one of Gastown's truly innovative, eccentric, and visionary magicians.
There's also an interesting new publication now in print, penned by the man himself: Fluevog by John Fluevog
Celebrate in stores and online to experience all the Fluevog Day festivities, limited edition giveaways, deals and surprises you can pack into a single day! Whether there's a pair of soles or two you've been eyeing, or you're simply in need of some quality time with a friendly Fluevogologist, spend May 15th with us and you'll be a part of the greatest shoe shopping day of the year!