Gastown is unlike anywhere else in the city. Steeped in history and spilling over with culture, the neighbourhood is but a small place within an ever growing and changing Vancouver. It can be challenging to root out the best places to eat, shop and hangout when visiting an unknown land. Who doesn't want to share in the sacred knowledge kept only by locals and those who frequent the haunts?
The "best" is never advertised, it just is. They are there, those diamonds in the rough. The golden places that are easily passed by in the rush of the maddened crowd to go where they are told to go. Trust your gut. Always. But some sage advice from the locals will go a long way.
During the spring break, Gastown is the place to go. Forever changing yet always the same, there's something special here and a sure guarantee that you'll find everything but the usual.
Get Caffeinated with the best coffee around
Gastown is a coffee lovers paradise. There are many independent cafes, each unique, serving single origin beans and locally roasted blends. Wait for a customised pour over or a nitro infused cold brew. Most places bake their own pastries, muffins, cookies and cakes and the vibe found in Gastown's Cafe culture can't be beat. Our cafes include:
Revolver
Caffe diBeppe
Smartmouth
Timbertrain
Birds & Beets
Milano
Coffeebar
Buro Espresso Bar 
Welcome to Funtown! Play pinball, ping -pong and Jenga
If fun and frivolity is what you're after, check out the Pinball Gallery at The Lamplighter Pub. Every table is free to play each Wednesday from 7pm on for their weekly event: Replay Pinball – Canada's largest free weekly pinball tournament Hosted and DJ'd by Mary Mac.
If you're looking for that basement games room experience just like when you were a kid, Gastown has that too. The Back and Forth Bar is setup with couches, snacks, video game consoles, board games and a bunch of ping pong tables.
Speaking of board games, you can barely see in the window of 131 Water Kitchen & Bar. This fun little spot has a great menu, intimate seating and a collection of over 100 board games. Operation anyone?
Or how about a game of Gigantic Jenga? Guilt & Co has a back room where you can set up the mega wooden blocks into a tower and go to town on slowly deconstructing the entire thing.
Shop till you drop
Shopping in Gastown is an experience all its own. There are things to be found here that can't be found anywhere else in the city. The selection of clothes, shoes, eyewear, accessories, jewelry, hats and bags come from home and afar – the diversity in the neighbourhood can be found from person to clothing rack where variety and creativity abound.
For menswear check out
Nifty Do,
Haven,
Roden Gray,
Neighbour,
Motherland
and
Wallace Hamilton.
For women's wear visit
One of a Few, 
The Latest Scoop,
Artemisia,
ARC,
Nettle's Tale,
Community Thrift and Vintage,
E:CLE
and
 Neighbour Woman.
For both drop in to
Frank & Oak, Oak + Fort, The Block , Secret Location
and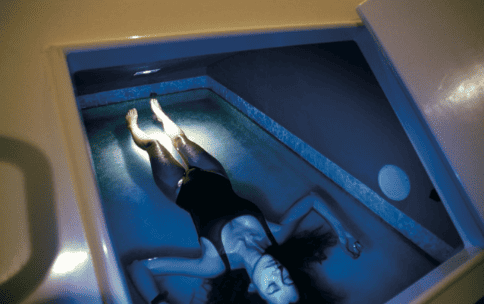 Float away to the door on the other side
The neighbourhood has two super chill places to escape into pure bliss.
Check yourself into the Float House for some serious sensory deprivation and relaxation. The tanks are filled with 10" of warm water with 800 lbs of dissolved Epsom salts. Free from light and sound, you float for up to 90 minutes and sail away into blissful nothingness.
Zenden is a unique meditation and yoga studio that uses sound along with colour therapy to guide you as you fearlessly open "the door to the other side". With stunning views of the North Shore mountains, the intimate studio boasts a frescoed ceiling mural illustrated with love by a talented local artisan. Along with the added use of crystal grids weaving in and out of the clouds, as well as powerful energies of the crystals and focusing sounds from resonant gongs, Zenden is everything you need to ferry you beyond to a deeper sense of consciousness.
Let's Do Brunch!
There's nothing quite like a hearty brunch with good friends on the weekend. Relaxed and easy going, brunch in Gastown is an opportunity to savour your few days off and enjoy a lazy morning where someone else takes care of all the cookin! Check our our list of all the best places to find brunch in Gastown.
The Happiest of Happy Hours
We have enough happy hours to fill the entire face of a clock. The amount of culinary variety found in Gastown is hard to beat. Gastown was once again voted Best Neighbourhood in the City for restaurants in the 2018 Georgia Straight Golden Plate Awards. Happy Hour in Gastown is a fun, social time where many hop from one place to the next enjoying top notch nosh and bevies at great prices.
Dancing and Live Music
On an evening out in Gastown, you need not leave the neighbourhood to find good live music and a proper floor to dance on.
There's live music here every night of the week and on most Wednesday's and during other special nights, you can dance to bands at Guilt & Co, Gastown's number one venue live music venue. Guilt & Co. is tucked away in the cellar at 1 Alexander Street and welcomes all genres of music lovers to its exposed brick suroundigns and candle lit tables. The dance floor is small but perfect to get close to the band and strut your stuff. Lots of independent bands and musicians perform here and there are many different live performances to check out like the Gastown Cabaret and open mic nights.
For hard hitting Djs, check out M.I.A. The club offers an inclusive space for alternative & avant strains of electronic dance music – whether rooted in r&b, hip hop, house or techno – all presented in a well-heeled setting. Guests tunnel into the space from 350 Water Street to be greeted by a lush room boasting a mix of futuristic yet timeworn details; M.I.A. carries notes of dark, burnt wood and rich tones of purple and red while abstract L.E.D. installations across the ceiling create pulse-like light patterns connecting all corners of the room. The intimate dance floor and compact DJ booth are ringed by plush communal seating while winding past the main bar will bring guests to a separate sake bar.